Beaverton Auto Accident Injury Care
Motor Vehicle Accident Rehabilitation
Experiencing an auto accident can be a physically and emotionally traumatic event. At D'vida, we understand the toll it can take on your body and mind. Our dedicated and experienced team is here to help you recover with a comprehensive range of therapeutic services tailored to your specific needs.
Car Accident Injury Therapy
Immediate Care For Post-Traffic Collision Injury
Following an auto accident, it is crucial to seek immediate care, even if you're not in pain. Often, symptoms can take days or even weeks to appear. Our team is skilled at identifying and addressing these injuries early on, reducing your risk of long-term issues 
We conduct a thorough examination to assess your physical condition following an accident. This includes evaluating your muscle strength, range of motion, and any pain or discomfort you may be experiencing.
Individualized Treatment Plan
Based on our assessment, we craft a personalized treatment plan designed to help you recover as quickly and effectively as possible. This plan may involve a combination of chiropractic adjustments, acupuncture, and therapeutic massage, depending on your unique needs.
Whether you're experiencing neck pain, back pain, headaches, or other symptoms following an auto accident, you can trust the team at D'vida to provide the care you need. We're dedicated to helping you recover and regain your health and quality of life.
Health
Insurance

Support.
Navigating insurance claims can be daunting, but we're here to assist you. We work with most auto accident insurance to ensure you receive the care you need.
A Holistic Approach to Healing
Our dedicated team of specialists uses an integrated approach, combining the benefits of chiropractic care, acupuncture, and medical massage to provide well-rounded, effective treatment plans. We consider your whole health, not just your injuries. We focus not only on relieving your pain but also on restoring your mobility and enhancing your overall wellness.
Car accident injury conditions we help address
Our team of skilled professionals is equipped to treat a wide range of injuries commonly associated with auto accidents, including but not limited to:
Often occurring in rear-end collisions, whiplash can result in neck pain, stiffness, and decreased range of motion.
These can vary from minor muscle sprains to more severe conditions like herniated discs.
These involve damage to muscles, ligaments, and tendons throughout the body and can result in significant pain and discomfort.
4. Headaches and Migraines
Post-accident headaches could indicate an underlying injury like a concussion or neck injury.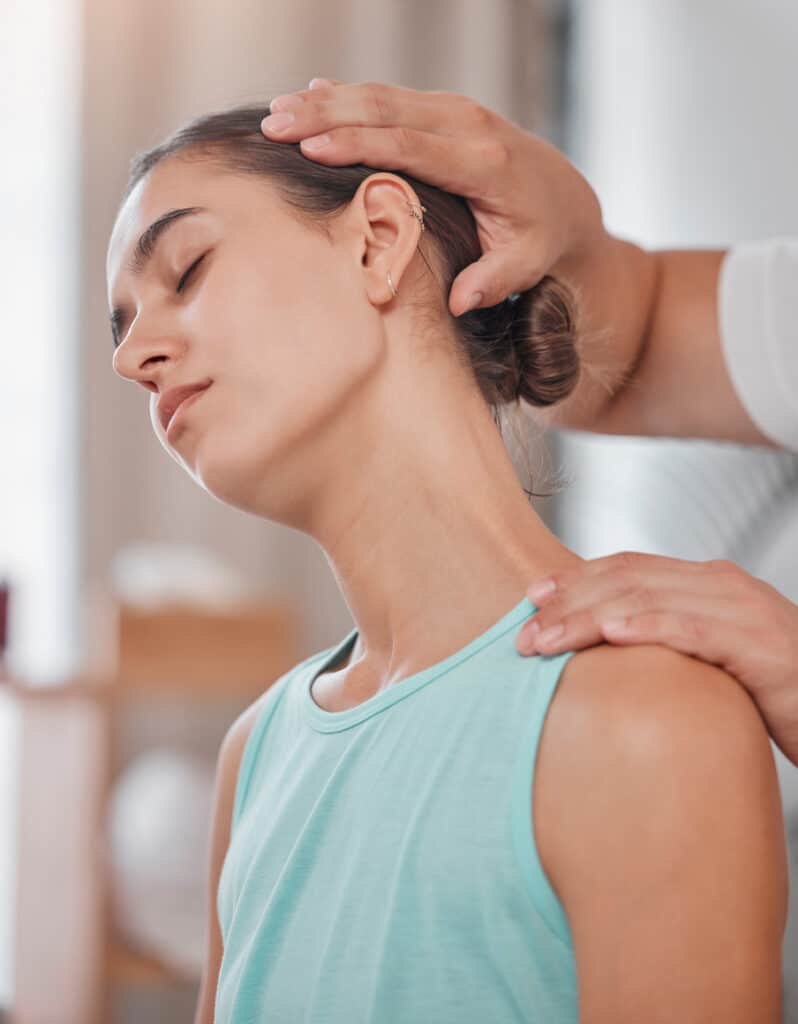 Post-Automobile Accident Long-term Care and Rehabilitation
Recovery from an auto accident injury doesn't stop once your initial pain subsides. We provide ongoing care to ensure you make a full recovery and prevent future health complications. Our rehabilitation services include chiropractic care, massage therapy, and acupuncture to improve strength, flexibility, and overall wellness.
Supportive and Compassionate Care
At D'vida, we realize that an auto accident is more than just a physical ordeal; it can also be an emotional and mental burden. Our team is dedicated to providing a supportive environment where your well-being is our utmost priority. We are committed to helping you navigate this challenging time with comprehensive, compassionate care that puts you on the path to recovery. Don't let an auto accident hold you back – reach out to us today and let us guide you on your path to recovery.
Are you ready to feel better and live better?
If you have recently been in an accident, have chronic pain from an injury or stress, or are simply looking for preventative care and better health, D'Vida Injury Clinic & Wellness Center is ready to help. Let us help you get back to the lifestyle you want and maintain a healthy body.